This is week three covering Oklahoma City's first shipping container residence. In last week's post we looked at how the home was positioned on the site, peeked at some interior pictures, and discussed the concepts of both minimalism and rightsizing. Whew!
This week, I want to move to the exterior and reveal a few more facets of this container design. I hope to share some insight into how building with containers must be approached differently from the ground up. I also want to introduce you to the owner and share more about his vision for working with shipping containers in the future.
Unique Foundation Design
First, lets look at how our foundation design coordinates with the integral structure of a shipping container. Since the owner wanted to elevate the container, we had to make some decisions about how to support it. At a preliminary plan inspection with the city permitting department, we learned that we needed to have a structural engineer's design and certification for this type of concrete stem-wall foundation. Essentially, anything that is not a slab-on-grade (with the city's pre-approved minimum reinforcing) has to be engineered.
To support the 40'-0" high cube our design concept was simply three independent, parallel stem walls. To add some drama to the design, the stem walls were "V" shaped at the top, with the center point being 1'-6" lower than the bearing points on the sides. At these (6) bearing points the engineer specified embedded steel plates, and a pretty cool layout for the reinforcing. The container would be welded to the these plates once it was set in place by a crane. The "V" shape also gave us some room to to route potential pipes and wires, as well as allowing some elbow room for insulating under the floor.
Kudos to 360 Engineering Group, PLLC in Tulsa for assuring our concept came to life in the most economical way!
Shipping Container Integral Structural System
For a 40'-0" high-cube container there are (4) integral bearing points at the bottom and top corners. These corner bearing points have holes for locking one container to the next for secure transport. They can also be used to attach crane rigging and swing containers over obstacles or onto raised foundations - like this container house.
Containers are designed to span their entire length without intermediate support. An unmodified container acts as tubular beam, and top, bottom, and sides work in synergy to allow a full-length unsupported span.
In our design's development, we chose to add a center support. We were going to be modifying the container by removing some sections in the corrugated sidewalls. Although there is a chance that the tube steel frames that surround any modified openings would make up the lost strength and stability, structural logic dictated that dividing the effective length of the span half would be the best way to make this home really sturdy.
The following diagrams are for a standard 20'-0" container.
Shipping Container Modifications
Shipping containers are made to haul heavy loads and are pretty darn strong until you begin removing large sections of the side or roof panels. Tulsa shipping container modifier Michael Cisco of Cisco Containers, LLC, completed all the modifications on this container, and installed the windows and doors before shipping it to Oklahoma City.
The owner and I both enjoyed the experience working with him on a custom project. We quickly learned that if you can dream it up, Michael and his team can do it. I still follow his work on Facebook and Instagram and am continually impressed by the quality of their work. Here are a couple shop photos of the finished container before it was shipped to the site.
Owner
Who is this man behind the curtain? My answer: someone pretty good at living with a light footprint on the earth! In this way he is everyone's brother, and a smart one too. Being able to rightsize one's home instead of becoming house poor is a lesson we all should consider before wasting a lot of money.
Josh and I grew up in the same church together, were both Poteau Pirates, and both Oklahoma Sooners. I have been advertising this post series as containing "minimalist grit" and I just trusted my gut on that word selection. I think it get this sense of him from the fact that he is willing to get his hands dirty while exploring non-conventional ideas through to completion.
During our work together in the design process, Josh set up his website and blog to unlock the process of designing and building his own home. As the narrator to the process, his practical perspective resonates deeper into why minimalism works for him. It is not just about having less stuff. It is about taking an active role in the "living" part of life, and the independence that comes from making and doing for oneself.
360 Container Tour
Click on the image below to check out some 360 camera pictures from Josh's website. Pretty neat!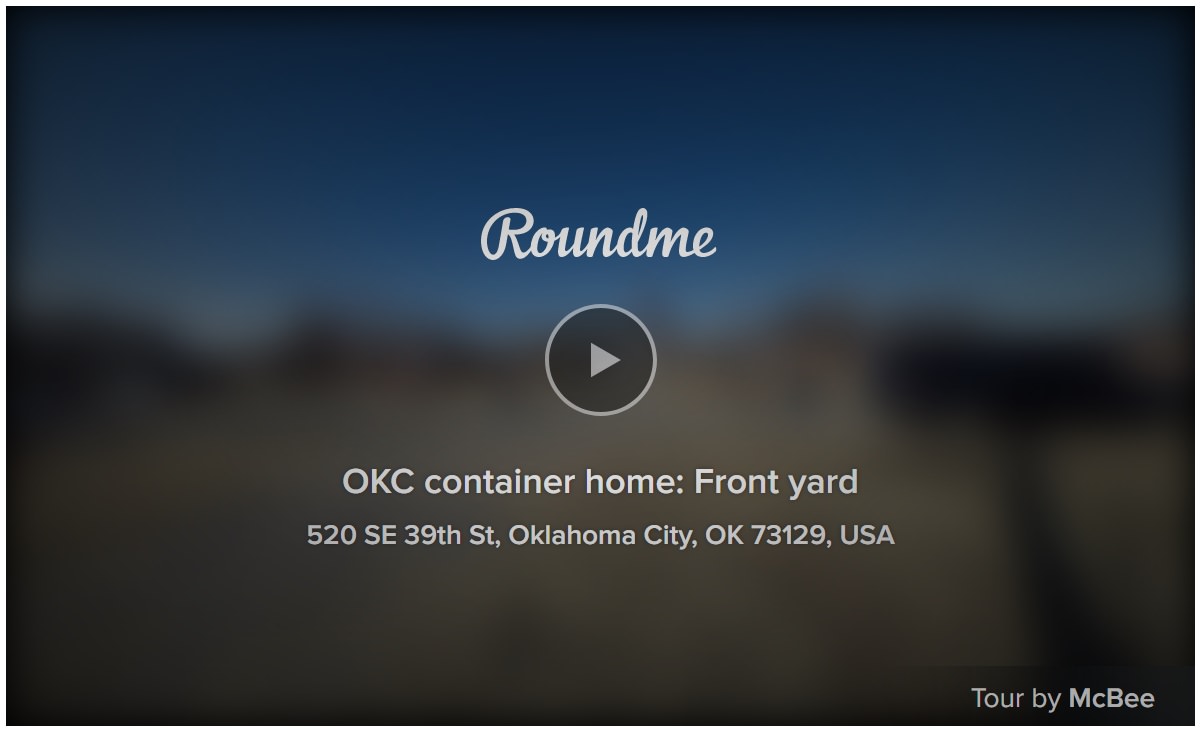 Resources
If you are interested in shipping container architecture, building a shipping container home, or any kind of project with these steel cubes, here are a few links for you:
This is a straightforward, pragmatic book on containers and making buildings with them. I own the first edition of the book pictured. If you purchase anything on Amazon after clicking the affiliate link, I receive a small commission at no cost to you. Thank you for supporting my website.
Your Questions Answered Next Week
Next week, I am going to close this series with some questions with Josh. He has been on an incredible journey over the last few years, and his home has been a very successful experience.
After I handed off the permit drawings, I stepped out of the picture, while he proceeded forward to breathe life into this container. He made the container house a home.
You would think that after all the work to complete the home, he would want to live here for a long, long time, right? After all, in the design phase, knowing that he might one day want to add another bedroom, we pre-designed a 20'-0" container addition.
But, when I asked him about his plans now, he mentioned the idea to sell this container straight off the foundations, so that he could repeat the process all over again - with lessons learned. His concept for this being akin to growing a plant, making a cutting, and repeating.
Say what?
High Cube Industries
Want to get down to the nitty-gritty and see first hand the kinds of issues that went into the construction of this home? Check out the High Cube Industries, LLC website when you have a little time. This is Josh's website and blog and a great first resource if you are interested in making buildings with shipping containers. Maybe a shipping container house is in your future?
What do you want to ask about this project? Comment below and share your questions for Josh.
You can always send me questions & messages from my Contact Page! I answer every email.
See you next week!